* United States Code (The Collected Laws of the United States) Title 4, Chapter 1 - The Flag
Sec. 8. Respect for flag
SubSec. (a) The flag should never be displayed with the union down, except as a signal of dire distress in instances of extreme danger to life or property.

---
Given the rapid removal of our civil liberties, the government's open intention to go to war against a country who hasn't done anything to warrent going to war against them, and a few dozen other things that I could mention but most of you are already aware of (including many, many multibillion dollar scandels, a unelected president, and whatnot), I think flying the flag upside down is warrented.


I DO NOT SUPPORT A WAR AGAINST IRAQ!. Please, someone, take away Dubya's keys, he's had too much to drink.

I keep hearing about how the stock market 'can't correct any more' and 'must go back up'. I just thought maybe I'd post a little reality check.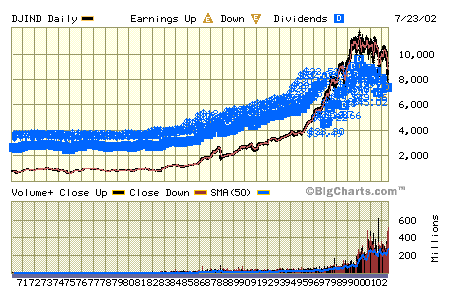 What you're looking at is a graph of dividends and stock prices for the dow jones industrial average since the early 70s. Notice anything?
Compare and contrast with a similar graph for the Nasdaq: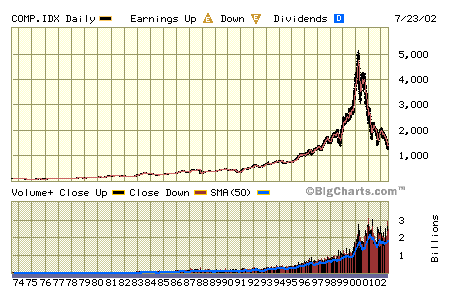 Hrm. So the Nasdaq corrected. The Dow, on the other hand, doesn't seem to have, yet.. oooh, this is gonna hurt. Let's try another index: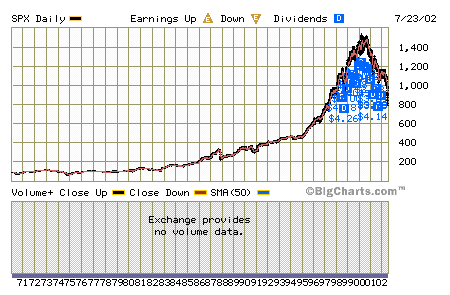 This one's in the middle of correcting.
---
Back home | Music